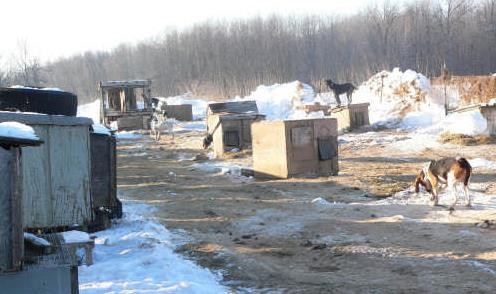 The majority of society today believes that *animal fighting* is morally corrupt. Laws have been written against intentionally pitting one animal against the next for sport. People go to prison for such brutality. But there is one glaring, gaping hole in these laws; People in Wisconsin can buy a license to do it. They can keep packs of hounds for that one single purpose. It is legal and socially acceptable to pit a pack of hounds against a coyote, bear, bobcat, fox, wolf, rabbit or raccoon. It is a common practice to either run the coyote until he collapses from exhaustion or put a bullet in his hind quarters to give the dogs that little advantage. Are we to believe that the coyote feels no pain or terror when he is attacked by a pack of hunting hounds with one hound clamping down on his throat while the rest puncture his lungs, legs and belly? Are we to believe the bear cub caught on the ground, outnumbered 6 to 1 and mauled is not suffering and may die days/weeks later from his wounds?
There are always two sides to any animal fight. Sometimes the hounds win and sometimes they lose. What does a 50 pound hound feel when a 300 pound bear sinks its teeth into his rib cage? The business end of a bears paw has been known to take the side off a hounds head. A wolf can disembowel a hound in under a minute. Here is a quote from a Letter written by Dr Bodewes, a Veterinarian, who has treated bear hunting hounds for over 20 years. "Broken and crushed legs, sliced-open abdomens and punctured lungs. Dogs lying mangled and dying on the surgery table -- all in the pursuit of sport". This is another quote from a rescue organization that pulled a number of pit bulls from a dog fighting facility; "Makeshift, filthy doghouses -- many improvised from plastic and metal barrels and others made of chipboard with rotting wood floors and rusted metal roofing -- provided the only shelter from the cold and in summer from the sweltering heat and humidity. Some dogs pulled at chains and cables that were tethered to cinder blocks and car tires".
These are the identical conditions that many Wisconsin hounders keep their hunting hounds in. Yet our society accepts one as ok and the other deplorable. These very same hound hunters will tell you that their dogs love what they do and it's worth the risk. That's what they were bred to do. Just like the fighting pit bull loves what he does and will fight to the death because that's what he was bred to do. We ask who is taking the risk here, certainly not the hunter?
This animal fighting culture is supported and applauded as a hunter's right. As a society we turn away and do nothing because it's a long standing tradition in this state and it's just hunting after all. Until voices are heard and laws are changed, the violence in our woods and the unnecessary suffering of both hunting hounds and wildlife will continue.
Staff @ Wildlife Public Trust & Coexistence
**************************************************************